Frequently, I get asked, "What book would you recommend for a group discussion?"
Planning a discussion involves understanding the dynamics of the group. How much time can the group give to reading? What topic would be most helpful to each person? Where might this group move to next? The following books, I recommend for their wide appeal and ability to generate meaningful conversations for the committed follower of Jesus, Christians in a season of doubt, skeptic and seeker:
1. Barna Frames (Various Authors, Edited by David Kinnaman & Roxanne Stone)
Barna Frames includes nine books (referred to as frames) less than one hundred pages on topics ranging from violence, adoption, multi-careering, changing attitudes about church, and digital over-connectedness. Choose one fitting your group or I would encourage you to read all nine. The frames include statistics and infographs.  Authors such as Bob Goff, Claire Diaz-Ortiz, David H. Kim, and Jedd Medefind further explore the topics with their expertise. You may also want to take advantage of the group discussion guides.
2. Chasing Francis (Ian Morgan Cron)
Ian Morgan Cron masterfully weaves conversations about theology, doubt, and spiritual formation within narrative. Chasing Francis explores a journey of faith through the perspective of character, Pastor Chase Falson. His story moves him from pastoring a mega-church in Connecticut to following the steps of St. Francis of Assisi in Italy. My wife, Robyn, and I have thoroughly enjoyed this book together. The back of the book also includes a study guide for each chapter.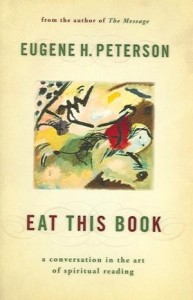 3. Eat This Book (Eugene Peterson)
The question of reading Scripture may not always be why but how? Eugene Peterson quintessential understanding of reading the Bible says, "Readers become what they read." Eat This Book delves into understanding the congruent story of Scripture. This book invites readers to see both the art and science interpreting Scripture; providing a perspective on how to read the Bible for formation in Christ's image. A group could highly benefit from this book by then transitioning into studying the Bible together.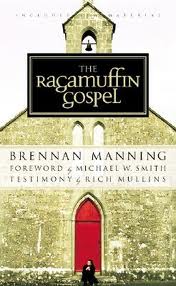 4. Ragamuffin Gospel (Brennan Manning)
A book written on grace from the perspective of a prodigal priest; Brennan Manning communicates grace to the weary and self defeating soul. Throughout Ragamuffin Gospel, you can sense an author with an understanding of the reader. If you and your group have lost touch of hope or find yourself in pessimism over the Christian faith, then this book could refresh you from grace as a theological term to an experience. Included is a spiritual retreat. This group discussion could lead to gaining a renewed perspective on following Jesus.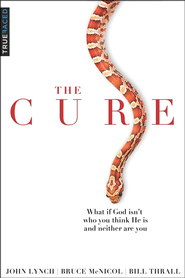 5. The Cure (John Lynch, Bruce McNicol, Bill Thrall)
Last summer, we discussed this book on family vacation. The authors of The Cure invite conversation by providing narrative about meeting with Christ and then a response concerning our understanding of the Christian life. This small 120 page book calls people beyond an inauthentic, cynical, and comparing understanding of Christianity to explore what it means to live our lives authentically with God and others. For more details regarding this resource you will want to see the True Faced Website.
Now it's your turn. What books/resources would you recommend for a group discussion?