New implies a chapter ending. Exchange what you have known for an unknown fresh start. I don't think we always comprehend a God making all things new. Change comes easy when convenient. Rarely, do we experience change in this fashion. Usually, the old chapter ends abruptly without our preparation.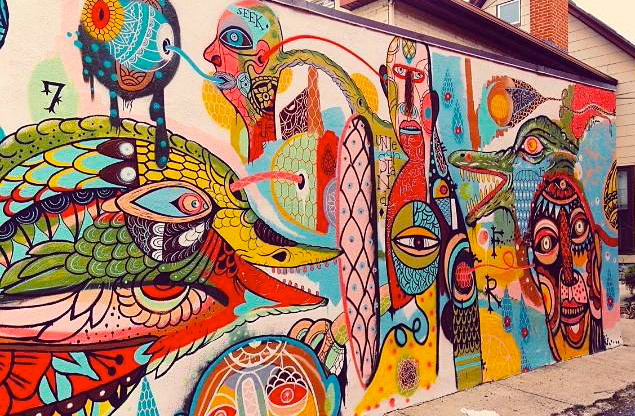 My childhood pastor Bill Kirk preached a sermon on Joseph. We toss around the phrase "new normal." Joseph lived an erratic new normal. The last portion of Genesis records how his brothers disowned him; rising and falling from power as Potiphar's slave; leading the prisoners as one himself; waiting two years for time with pharaoh; and finally finding a place as second in command of Egypt.
Pastor Kirk drew from Joseph's life this point, "The God who works in the behind the scenes of life…"
Why is new necessary? New comes to us at a cost. The life we left behind to the life where God has brought us. As much as we love the idea of God making things new, the actual practical application in our lives can seem unexpected. We find ourselves in these moments growing the most; finding a God working behind the scenes and ushering us into a new normal.
The image in this post depicts a mural. I picture our lives looking like this. Focus on one scene and you can notice the intricate detail. Step back and you will find how that scene fits within the picture. Only when we step back from the singular scene of our lives can we see the necessity of new.
God brings the new in our lives to…
Move us from our security to His.
Redirect us to His path for us.
Find Him closer than we ever imagined.
Recognize His grace.
Foreseen or unforeseen, part of following Christ means experiencing newness. A new normal invites us to step back and see the mural God has created in our lives.
What does new mean to you?
Photo credit to Jessie Schnall, you can see more of her work at Portraits by Jessie.