My wife Robyn instituted a new tradition when we started dating. In a previous post, I shared that we choose a word for the year. Over the last few days we have discussed our potential choices for this year. I wrote down my word this morning and then read the quote below: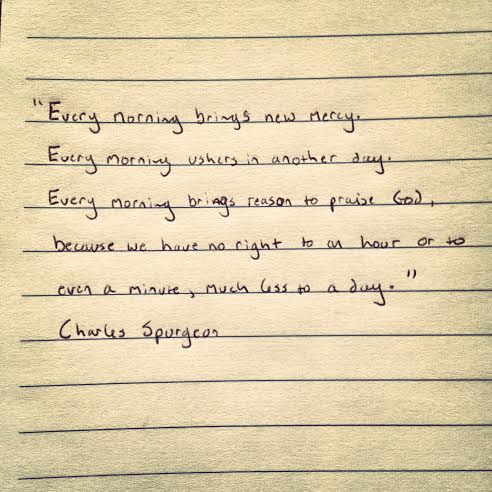 The words of Charles Spurgeon connected powerfully to my 2014 word; Perspective. Think of this. You wake up to the darkness. Bewildered and agitated, you walk outside to sit and wait. All evidence points to something new, but often we find ourselves focusing on the black sky. Then dawn approaches with the slightest glimmer of light. A sunrise over the horizon is God's way of giving us perspective on reality.
Here are four facets in which I will be looking trekking through perspective:
Perspective shapes our view of God – Following Christ means embracing the surprises. Often, what we see as disappointments and encouragements bring us to a greater understanding of His work in us. As in most stories of the Bible, God does His best work behind the scenes.
Perspective brings us past ourselves to see others – People can tend to create narratives of other's motives and actions. What if we started by seeing people made in the image of God? Starting there might give insight to their past, present, and even their potential.
Perspective sees our circumstances as temporary – Mundane. Tragedy, Drama. Comedy. Success. Our lives shift through seasons. The underlining characteristic of gratitude points us the mercy for today.
Perspective pauses to reflect on growth – Perhaps, your harshest critic is you. Grace allows us to see how Christ has transformed our lives to His likeness. Pausing for solitude invites us to meet with God and see how He has been shaping us.
Welcome to the new year! I hope you are ready for another exciting year. What will be your word for 2014?